It is little known, but the Dude is a pretty good marketing wordsmith, having done some high quality copy in his time.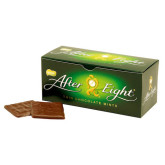 This means that when something catches the Dude's eye, it is pretty special. The Dude was gifted a box of After Eight dinner mints, which are quite yummy. Since he's tracking calories, he went looking for nutritional information, and found this marketing gold:
The perfect combination of luxurious mint fondant crafted with 100% natural peppermint oil, enrobed in rich dark chocolate, makes After Eight THE chocolate mint.
Enrobed? Mint Fondant? Fucking brilliant. Short, memorable, catchy.
---
Like what you are reading? Subscribe now to get notified via email for new posts. Always free. Click to Subscribe